11th - 13th August
It's always struck me as curious that when I think of trips to the coast in Japan, a very large number of them seem to be to this or that peninsula, yet I can't offhand remember visiting a Peninsula as such in the British Isles. (There's the Lleyn Peninsula in Wales, but I've never been there.) How much this is a matter of naming conventions, and how much of geography I've never been able to decide.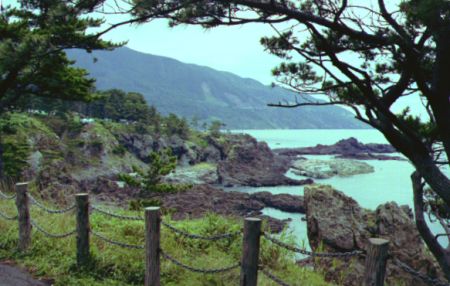 Sakurajima-sou camp site, on the west coast of Oga Peninsula: I took this photo on the day we left (after the Storm), and unfortunately the overcast sky seems to have upset the colour balance somewhat.

We were very lucky to find this camp-site: it's well hidden from the road, and not signposted very conspicuously. But the facilities were excellent, and the location is superb, perched on the edge of low cliffs. The shore below the camp site is rocky, but provides some wonderful calm (and deep) channels for swimming in. Diving just below the surface there were plenty of fish, sea urchins, and other animals.
Excellent swimming, but not very photogenic. Keiko hopped around the rocks and took lots more pictures of disembodied heads bobbing in the water...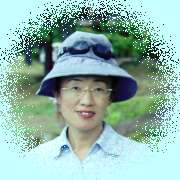 Your photographer ... obviously not on the rocks, despite the goggles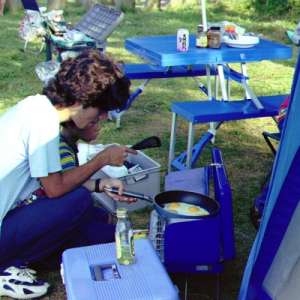 And here's Ian doing something useful. We've always tended to have a rather luxurious view of camping, seeing it as a way to save money on non-essentials, and eat out everywhere. But this time somehow we got round to doing some proper cooking (no, not just eggs). The second night at Oga I produced a passable chicken casserole, with whatever vegetables were available - green peppers, etc., and bean sprouts, which I discovered are a stupendous bargain at 28 yen a bag. We had borrowed a hangou, the 'proper' thing for cooking rice on a camp fire, and discovered that it did an excellent job on potatoes as well. I didn't take a photo, but I found this little animation which shows the general principle. (Courtesy Home Page magazine)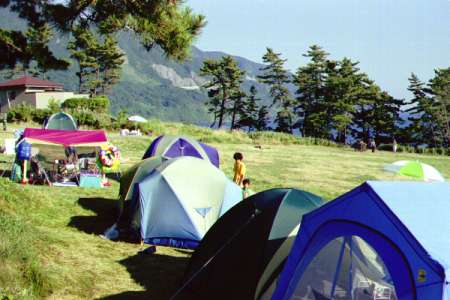 Spectacular cliff views: ours are the third and fourth tents from the camera. You'll notice no cars - the car park is some way away, and we had to load everything onto this "rear car" (sort of hand-trolley), to take it back to the car.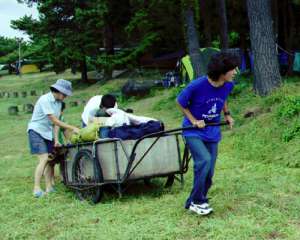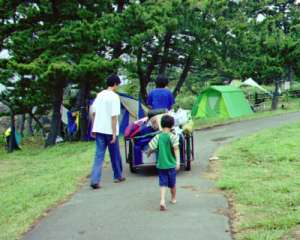 So it was farewell to Oga. Much of the 13th was taken up with just driving down the coast. Progress on ordinary roads in Japan is always painfully slow - an average speed of 40 km/h is pretty good going. (25 mph for those still in the dark ages)
We eventually stayed the last night at Atsumi, an onsen (hot spring) resort... on to the last page now!