Yura - the seaside
So on 7th August, we set off up the motorway, a.k.a. 'Tohoku Expwy', past Sendai, and across to the west coast. Unfortunately the smart "auto-camp" in our guidebook was full, so we ended up at a little seaside resort called Yura, where the 'campsite' is actually the beach. And yes, it was getting dark as we put the tents up.



Haguro - an interesting Shinto site (8th August)



Tazawako - to the hills for a bit
(9th - 11th August)



Oga peninsula - back to the seaside
(11th - 13th August)



Atsumi - last night at an onsen, then (14th August) back home down the motorway, and through the long tunnel under Japan's backbone.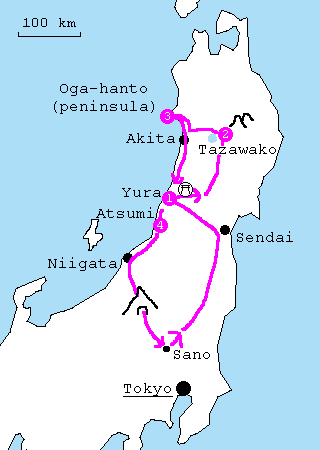 The wobbly purple line shows our route, and the numbers are where we stayed: two nights at each of the first three (campsites) and the last night in a ryokan.
Sorry, you can't click the map, because I haven't read that chapter yet. But you can click the buttons under the map. (Thanks to The Florida Geographic Alliance for the outline.)
Click here for a (not very good) map in Roman letters, courtesy of Yahoo. You can zoom out or move sideways, but zooming in gives very little more detail.