Goldenrod (Solidago altissima)

Goldenrod
vs.
Susuki

The struggle with an invader?





Susuki, or Japanese silver grass (Miscanthus sinensis)
These two plants first came to my attention in a little article in the Japan Times some years ago: "Would the native susuki (in the right corner) survive invasion by the marauding barbarian from America (in the left corner)?" Or something like that - actually I think the article was rather level-headed, but topics like this can easily become the stuff of popular botanomythology.
For millennia (who's counting?) Japanese poets have been referring to the graceful susuki - by merely popping its name in a haiku, we automatically know the season is "autumn". But then after the Second World War, it seems, the invader suddenly appeared all across Japan, threatening a traditional landscape feature.
Goldenrod's Japanese name is highly appropriate, but a bit of a mouthful - seitaka-awadachi-sou, or the "tall foam-whipping plant" - and at ten syllables it wouldn't even fit in one line of a haiku. Both plants are large colonisers of barren ground, the gravel fringes to rivers, for example, and both are dominating, reaching a couple of metres tall. One of them has to win...

The attractive yellow flowers first appear in October, and live up to the English name. Then they go to seed, and we see the less attractive aspect that the Japanese name seizes on. The one below still looks semi-presentable, but by late November the whole plant can look a very dry brown and scruffy mess.

Diversion

State of Kentucky official page
This claims goldenrod as the state flower, but it seems the story is not really so clear-cut, and a variety of other states also claim it. More details: Geobop.

Not surprisingly, since it's an American plant, I don't remember goldenrod from my childhood in England, though on a recent visit (2000) I happened to spot some growing demurely by someone's front gate.

Susuki is a grass, so to the casual observer there's no distinction between the flower and seed stages. Certainly, with its creamy plumes, it's immensely photogenic. Here are a couple more wallpaper size (800 x 600) images:



Diversion

Even while I'd only written "coming soon" on the Plant-Watcher page, I had visitors arriving on a search for 'susuki'. A quick check suggested that quite a few of them were actually looking for motorbikes! For what it's worth, there is no connection between the (indivisible) word susuki and the very common name Suzuki, which comes from suzu (bell) plus ki (tree).
... but in reality, an October bicycle ride up the river dispels all notion of a takeover. Goldenrod flourishes here, but Susuki flourishes there. Sometimes the two seem quite happy to coexist. Biology is like that, much less clearcut than war films.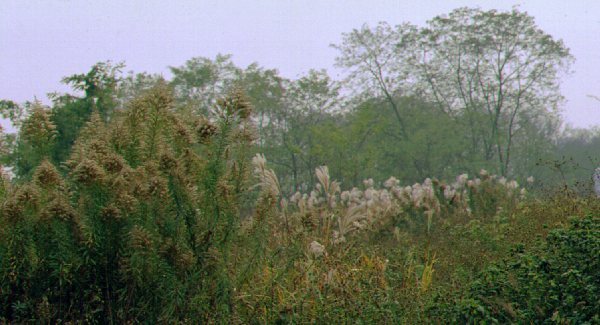 Goldenrod and susuki happily sharing a bit of autumn mist