Painswick thumbnails


Tibbiwell Lane


Murrays, the estate agents in the village who are selling our house



Vicarage Street


The Royal Oak
For various reasons, we spent a month or so this summer in England and Wales. Mostly in Painswick where I grew up, but we managed some day trips and a wet week in North Wales.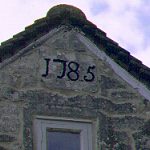 Impressions? (Well, what was once familiar is striking after an absence.) Gosh, the buildings are old! Actually, it turns out that over the last decade we have visited England just once every three years. After each three year absence there are changes - a building gone or come, here and there. But the rate of change is such that there is about as much to notice when we get back to Sano after a month or so away.
Random thoughts - one change that really struck me this year was the ease of finding a reasonable cup of coffee. In the course of the seaside part of our stay in North Wales (when it rained the most continuously, of course) we found some excellent coffee in the Sun Inn, in Llanengan, a tiny village beyond Abersoch, and managed to spin out morning coffee, lunch, and more coffee over about three hours, in a totally family-friendly environment. (It didn't stop raining.)

There has been a slight change to the "Nuremburg rally" colour scheme for cars: red, black, red, or white (or red). Now green cars are definitely OK too, it seems. Spot one in the photo below!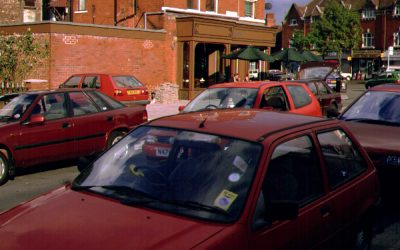 (Manchester)
While we're on cars, here are a couple of bits of culture shock: the ticket machine in a local car park (in Stroud).
"NO CHANGE GIVEN" indeed! You would be hard put to find any machine for anything in Japan that didn't give change. But what's this "Dogs die in hot cars"? It goes on: "Failure to follow this advice could lead to the death or your dog and fine of £5,000 and/or six months in prison." Just dogs? With depressing frequency each summer in Japan we hear news items of how another 18-month-old baby has been found dead in a car, after its owner, oops, mother, Mrs J Tanaka, aged 21-1/2, left the air-conditioning on and went to play pachinko (pinball gambling). I even recall translating a patent that mentioned the importance of manufacturing infallible air-conditioning (whatever that is), and referred in an off-hand way to cars being left locked up with the engine running in just this sort of way.
Things we did
We (my sister and I) put up for sale the house we grew up in. Here it is: Ashton House. I went round and took a few pictures too: here are the thumbnails...

The house


Rear gable


The door bell - bronze in oolitic limestone


The old workshop
(My grandfather's, from 1919 to 1950-something)


Boot scraper
Common enough once, but seems to have puzzled Akasegawa Genpei
Many years ago (about 35, actually), Marling School had a cottage it rented in the Black Mountains, on the Hereford-Brecon border (actually just inside England). This area was my introduction to mountains (as opposed to hills, which are less than 2000 feet high), and with various groups, inside and outside school, I stayed there quite a few times. Anyway, I had this idea: I'd take some photographs following the Olchon, the stream in "our" valley, all the way to the sea, via the Monnow, the Wye, and the Severn. Someone would make it into a book, and thousands of people would put it on their coffee-tables. None of this happened, of course. But now things are different: I can write a photo-essay and publish it myself, and worry not a jot if the number of people who read it never reaches three figures. Didn't get very much done, unfortunately, so it's still a long-term project.
| | |
| --- | --- |
| The beginning - 1967 (Kodak Retinette folding 35mm camera, Agfa CT18 slide film) | The end - the last bridge over the river Wye - August 2000 |