Snow!
Snowfall, January 2001 (Namiki-cho, Sano)

Footsteps across the Kanto Plain




We don't see much snow here on the Kanto Plain. Some years none at all, other years a tiny sprinkling, gone by about lunch-time in the bright winter sunshine. So this January's first lot of snow was quite unusual: a decent covering that stayed around for several days, and gave me a few photo-opportunities.

The basic reason why we get so little snow, is that the freezing winds from Siberia pick up lots of moisture from the Sea of Japan, but then drop it all on the west side of the mountains that form the backbone of Honshu, this island. So Kanazawa, Niigata, and other places on the "back side of Japan" (ura-nippon) have to shovel snow throughout the winter. They also provide the skiing - from Sano it's a relatively short train journey through the tunnel to the snowy side.
From west to east, these are the three main rivers flowing to the west of Sano. Hatagawa is my favourite for photographic possibilities - Akiyamagawa goes right through the built-up area near where we live. Note that kawa or gawa means "river" - I've avoided the Japanese Transport Ministry's standard style on signs, which is to call these "Izuru RIV." and so on.
And finally...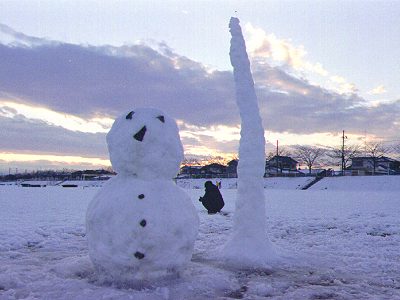 Photo: Ian Chandler

Created January 2001 - WDG validated