About this website - Contact me
The Imaginatorium is Brian Chandler's personal collection of bits and pieces: it is always a "work in progress", though often not much work is done, and even less progress made. Actually currently only the jigsaw puzzle shop is getting any attention -- Yes, we are operating, and we send puzzles (almost) anywhere in the world!
As well as running the puzzle shop, I'm sometimes active editing at Wikipedia: see my user page.
I seem to have no time at all for photography these days, but I have been doing more music, piano and singing with Chor Ecco, our local mixed voice choir. So most things on this page are historical, but well, they're still here.
Meanwhile, I found some old things in the attic: Look, you can see the old front page (only dead links removed). This might explain the really old front page at Yomogi.
Imaginatorium Site Map - complete contents

Shop
Shop front - Full index and links page - Browse thumbnails and order - FAQ

Sano Gallery
Where is Sano? - Weather - Snapshot gallery - Huh? - Planning, absence of
Don't miss: Walls ("...the very best site about walls that I've ever visited." - Dan Dumas)

Plant-Watcher's Page
How a paddy-field works - Ginkgo - Tochi (our "prefectural tree") - Higanbana - and many other trees and flowers on the edge of the Kanto Plain...

Photography
More photographs, calculators and other stuff about photography
Don't miss: Tiling photos

Brian's Bookshelf
Science and Maths - Nature - Photography & Light - Music - Words - This & That
Don't miss: Top Ten science books everyone should read - Music by numbers - Maps and projections - Plus: Ordering from amazon.co.jp
Miscellaneous
Brian Chandler translations (extremely fragmentary!)
Squibs - Don't miss: The Great Muffin Mystery - Qualia! (problem solved)
Italian in Japanese - reference material to help Japanese speakers get around the words of Italian opera. You need Japanese language support to read the pages, but might find it interesting how one can gloss Italian into Japanese by writing "backwards."
Brian's back door - the even more disorganised "unofficial" bits
And finally, my digital image gallery ... The Artofar-
Torium
Adriana Kikuchi hails from Brazil and teaches art to kids in Sano.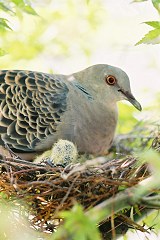 Mildred sitting on Lucy
News corner!
Sorry: no news at present. Lucy's happy event was a decade of summers ago now, and last year (2014) the maple tree succumbed to some insect, and is no more.
August 16th (2002?) - Lucy leaves home! A couple of weeks ago, we realised that Mildred, who is a pigeon, had built her nest right at eye level in the little maple tree in front of our house. With amazing speed, she laid an egg, Lucy hatched from it, and in about ten days turned from a tiny ball of fluff into a crop-eating device, and left us. In the photo she was about three days old.
After the Imaginatorium
Absolutely the best next website: Grand Illusions
Feedback
Is very welcome! Please use the contact page.
More contact info
Japanese
You will need Japanese support on your browser to read the Japanese pages. There is no guarantee whatsoever that the Japanese version says the same thing as the English version.



The Real Truth about the millennium
Click the button for the month in which
you think the third millennium started.
© Brian Chandler 1999-2999 (Copyleft) - Updated from time to time - Almost WDG validated